What to Expect:
Thursday Arrive in the afternoon to get settled in, enjoy our sandy beach on Lake Superior, and get to know the other women on the trip! We'll be serving a gourmet supper, complete with beer and wine pairings.
Friday Canoe Day! After a gourmet breakfast prepared for you over a fire, we'll embark on our adventure for the day – Paddling on the Amnicon River! We'll do a picnic lunch along the river, and come back to camp in the afternoon. After a delicious dinner complete with beer and wine pairings, we'll watch the sun set over Lake Superior while we sit beside a campfire.
Saturday Hiking Day! After an amazing breakfast, we'll each drive separately to one of the many state parks in the area. Lunch will be served picnic style and there will be plenty of time to explore the park and enjoy beautiful views. After a delicious dinner complete with beer and wine pairings, we'll watch the sun set over Lake Superior while we sit beside a campfire.
Sunday We'll have a little bit of time after breakfast for one last hike around Camp Amnicon's gorgeous lakefront and riverside before saying goodbye to our fellow adventurers and heading home.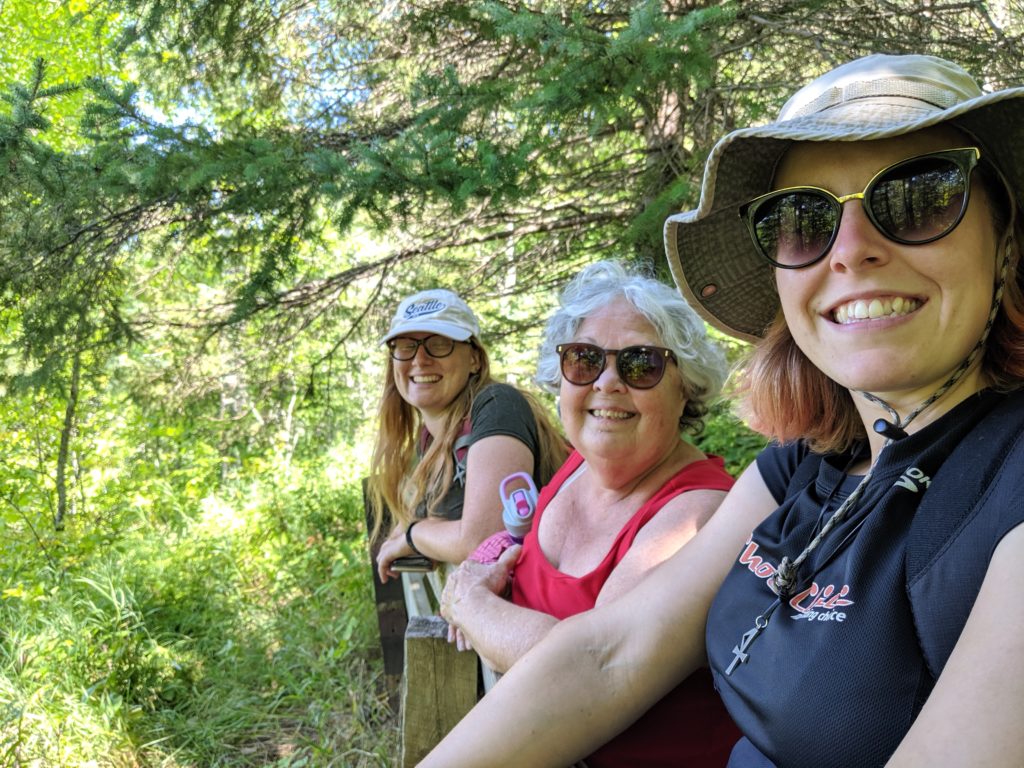 Frequently Asked Questions:
We've carefully considered the recommendations of the CDC, the American Camps Association (our accrediting organization), and the WI Dept of Health regarding camps & retreat facilities. Overall what we've been reading is very encouraging! Apparently the way we operate (with small groups staying outdoors in remote locations) is a very safe way to operate.
The riskiest time for COVID transmissision is when people are sharing an enclosed space with people they don't typically live with. For this weekend, we're asking everyone to drive separately to camp. We'll be doing all activities outdoors, and encouraging participants to stay physically distanced during the weekend. We will also be reducing the amount of shared equipment, and have everyone sleep in separate spaces. We have room for 6 people to sleep in real beds in platform wall-tents at our seasonal retreat facility, as well as a few small cabins a short walk away. Those who are interested can borrow a hammock with a bug net and rain fly for the weekend for sleeping. Hammock camping is awesome!
This trip is open for anyone coming from the Twin Cities or Twin Ports area, who identifies as a woman, is over the age of 21, and can walk at least half a mile without assistance.
[/toggle][toggle title="What do I need to bring? " open="no"]You'll get a detailed packing list before you come, but essentially you're just responsible for your own clothes & sleeping bag. Amnicon provides all the food, gear, and staff you'll need to have a fantastic experience. [/toggle][toggle title="What will the spiritual component of the trip be like? " open="no"]We are a Lutheran camp, so there will be a spiritual side to this adventure! We'll start and end every day with a brief devotion we like to call First & Last Words. First Word usually consists of 15-20 minutes of reading a short story or poem, and then discussing it as a a group. Last Word is a little bit longer, as we gather around the campfire in the evening. Everyone in the group will have the opportunity to share a story from their own life, and then hear and discuss a story from the Bible.
All spiritual elements of this trip are designed to bring people closer to each other and closer to God. Do you have doubts, struggles, questions? Good! This is a safe place to share those and talk about them openly. Have you walked with God for a long time? Good! Please share that too, and be ready to learn from the life experiences of the other women on the trip.
We're asking $400/person for the weekend, which includes all the food, beverages, amenities, gear, and staff for the weekend.