Summer 2020: Different, Yet the same
It's been a different summer at Amnicon, to say the least. No meals in the Dining Hall, each camper sleeping in their own hammock, no showers for groups coming off trail, no trips to the Apostle Islands, and more.
These differences, however, have not prevented the constant – that youth and adults adventured out of their comfort zones to experience grace. We paddled, built fires, got soaked with rain, swatted bugs, and enjoyed sunsets just like always. We spent time in real and honest conversation centered on God's promises. We built relationships, we learned in hands-on ways, and we shared safe space. We grew in self-confidence and we grew in our understanding of who God is in our lives. We stepped out in faith this spring to make this summer possible, because we knew people would need the ministry of Amnicon more than ever.
We've been affirmed in our decision – through the opportunity to live out our mission, through the gratitude our participants have expressed, and through the words of encouragement and financial support from you, our wonderful community of supporters. As a part of this community, you made a significant and direct impact on the lives of many people in need this summer.
Thank you for making adventure possible.
With gratitude,
Jesse Weiss
Executive Director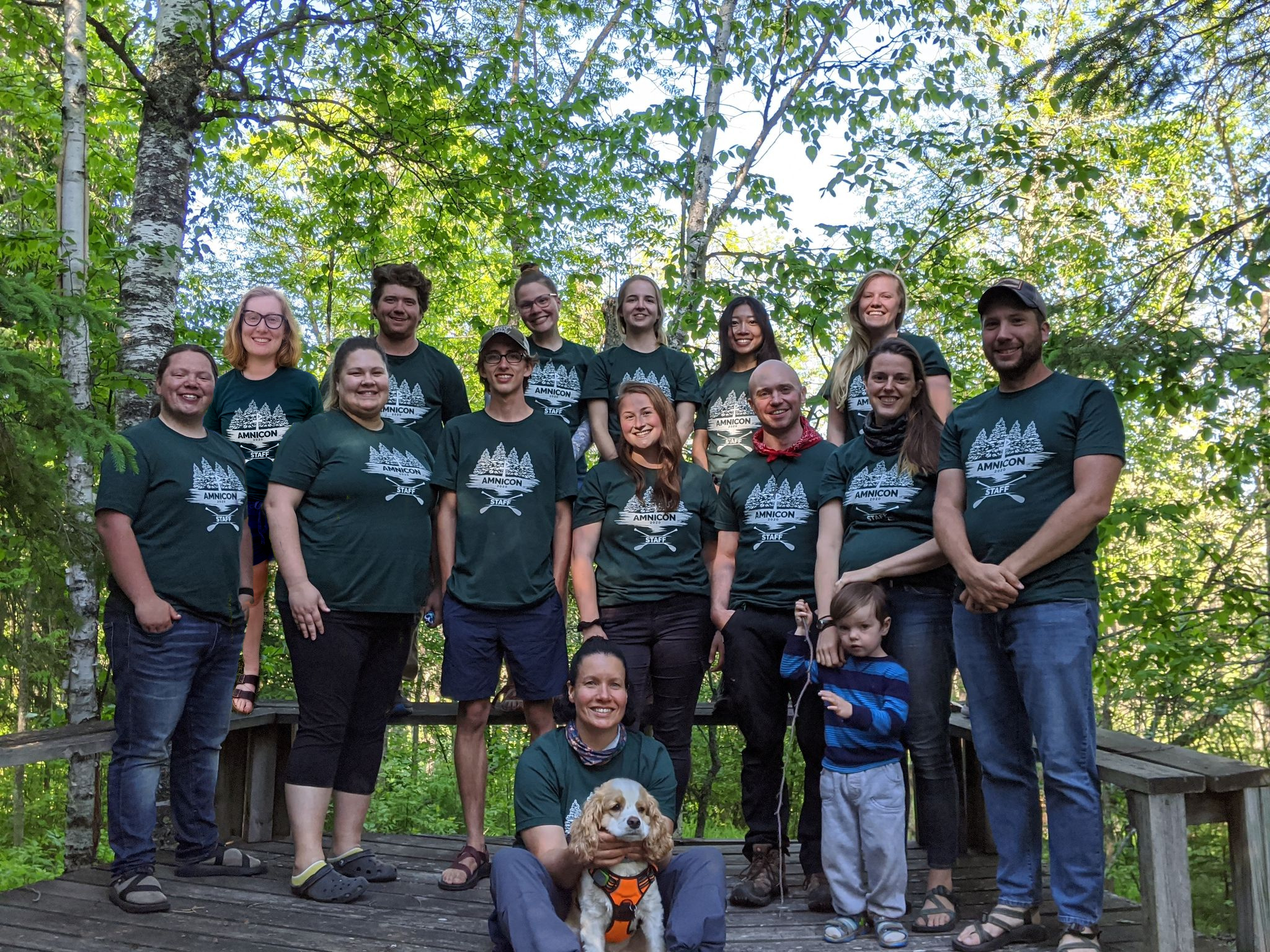 Back Row: Sian (Guide), Joe (Maintenance Coordinator), Sydney (Guide), Hallie (Guide), Minh Anh (Trails Coordinator), Sarah (Hospitality Coordinator)
Middle Row: Jared (Guide), Melissa (Kitchen Coordinator), John (Guide), Mikaela (Assistant Director), Brad (Associate Director), Hannah (Associate Director), Jesse (Executive Director)
Front & Center: Sue (Retreat Coordinator), Enzo the Dog (Hospitality Assistant), Pax (Staff Kid)
A Summer in pictures
Click through to see some of the highlights of 2020 adventure trips!
The Risk Worth Taking
To love is to risk not being loved in return, To live is to risk dying, To hope is to risk despair, To try is to risk failure. But risks must be taken because the greatest hazard in life is to risk nothing. The person who risks nothing, does nothing, has nothing, is nothing.
~ William Arthur Ward
If you were to ask me "Why do I go to Amnicon?" I would say this devotion offered on my two trips this summer sums it up. Risk produces growth and growth produces faith. I have been bringing groups to Amnicon for over twenty years and every time has been a blessing for both the youth and the adults. They are not easy trips and force the participant to look beyond themselves and began to realize what a family of Christ can accomplish when they work together.
From the beginning of our trip we are all pushed out of our comfort zones – from learning what to do if our canoe "swamps," to being sent only our camping equipment and supplies, to long days of paddling, to setting up campsites and collecting firewood for meals. Often a few of the campers are apprehensive and nervous as they have never tried such an endeavor. By the end of the week they realize that every risk that they were asked to take has helped them grow. For some it may be physical demands and others it may have been emotional challenges. Whatever the challenge they always emerge victorious. As a pastor I have always enjoyed seeing how God was a part of their experience. Talking about their faith with new eyes and new passion fills my heart with hope for the next generation of Christians!
Thank you Amnicon! You never disappoint! It is a great week of fun and faith. I will continue bringing my church as long as these old bones can paddle!
In Christ,
The Revered Mark E. Jaramillo
Norway Lutheran Church, Wind Lake, WI