wilderness adventures
Build Community. Stay Safe. Have Fun. Connect Deeply. See God Work In Their Lives!
Going into the wilderness together is one of the best ways for people to grow personally, for groups to bond deeply, and for everyone to encounter God in totally amazing and unique ways. With over 50 years' experience in safe wilderness travel, we know how to create memories that will last a lifetime.
What COVID precautions are you taking?
Amnicon Adventures are remarkably amenable to COVID precautions. You won't interact with anyone outside your group, and all group activities will take place outdoors. We encourage all of our staff and campers to get vaccinated against COVID, and follow CDC guidelines if they become exposed to COVID. 
Amnicon has been successfully running wilderness trips throughout the pandemic with ZERO known instances of COVID transmission on our site. 
How does pricing work?
We charge a "group rate" for all of our wilderness adventures, which means that the whole group comes together to pay the group rate, regardless of exactly how many people are in the group. The group rate for each trip type is listed on that trip's page.
For example, if a church signs up to create a group of middle school students going on the Namekagon Scenic Riverway trip, that trip costs $3500 whether they bring 7 people or 10 people. We charge this way because our expenses don't really change depending on the number of people who come on a trip. Staffing & transportation are our two biggest expenses, and these don't change based on the number of participants on a trip.
As always… PLEASE DON'T LET MONEY BE THE REASON WHY YOU WOULDN'T COME! We have plenty of camper-scholarships available thanks to our generous supporters, and are more than happy to work with each group to find a rate that will work for the whole group, or to provide campership funding for a specific trip participant.
What if I'm not able to fill all the spots in my group's trip?
Sometimes when a trip organizer isn't able to fill all the spots in a trip, they ask about our cancellation policy, and whether they're able to get their deposit back. We totally understand that it can be intimidating to feel responsible for getting commitments from your constituents, and that some groups just aren't going to get 10 people to sign up.
But keep in mind that most of our trips have a minimum group size of 3 people. We'll still provide the same level of service and quality experience even if you only bring 3 people. And honestly, sometimes the smaller groups have the best experiences because they're able to have deeper, more intimiate conversations.
And of course, we never want money to be the reason why someone wouldn't get to experience an Amnicon Adventure. If you wind up with a small group size, and the price becomes prohibitive, please do not hesitate to let us know! We have ample camper-scholarships available so our trips can always be affordable. And if your group members don't like the feeling of receiving a scholarship, you can just tell them that you worked out a 'small-group discount' with us 😉
What all is included?
All Amnicon Adventures come with two highly trained wilderness guides who are prepared and equipped to lead all aspects of the trip including navigation, cooking, leading discussions, teaching wilderness skills, and handling any first aid needs that arise. We'll also provide all the food, gear & equipment the group will need including cooking equipment, tents or hammocks for sleeping, canoes, paddles, and PFDs (life jackets). 
Trip participants basically just need to bring their own clothes & sleeping bags (and we have loaners available if you need them!)
Can individuals sign up for these trips, or are they just for groups?
Primarily our wilderness adventure trips are group trips, but we do have a few open-enroll opportunities!
For 2023 we're offering an Open Enroll Namekagon Scenic Riverway Tour August 6-11. Click here to learn more & sign up. 
If you are interested in coming on an Amnicon trip but don't have a group to come with, and can't come August 6-11, keep in mind that most of our trips only need 3 people to make a group! Do you have 2-3 friends, family members, class mates, or church buddies who might be interested in coming with you? We'd totally put together a small group wilderness adventure experience for you!
Do groups have to bring an adult chaperone?
We really do appreciate when groups can send an adult along on the trip, yes. These adult leaders are integral to the overall experience for the youth, and provide some continuity for the youth as they head home. Authentic, meaningful relationships with adults are of huge benefit to teens and young adults, and this is one of the ways to build those relationships.
Please keep in mind:
The adult who comes on the trip doesn't necessarily have to be the person who organizes the trip
The adult leader doesn't have to be a staff person or pastor from the church/group
Parents and volunteers make great adult leaders!
The adult leader DOES count towards the total number of people who can come on the trip.
The adult leader DOES need to sign up as a participant on the trip, and bring a completed health form to camp
Do you have to be Christian to come? What is the spiritual component like?
Nope! We welcome everyone as long as they are old enough and healthy enough to come.
We do value providing a spiritual component to our trips. This helps the group bond on a deeper level, and allows the trip to have a greater impact on our campers lives. We begin each day with First Word, which is usually a short reading of a story, psalm, or poem followed by short group discussion. We end each day with Last Word, which is a longer discussion of a Bible passage as the group sits around the campfire in the evening. All discussions at Amnicon are designed to bring people closer together, and provide a safe space for people to be honest with their questions and their struggles. One of our favorite tools to use are Talking Sticks, so everyone knows when their turn to speak is coming, and when it's their turn to listen.
If you'd like to lead your own devotions & Bible discussions, that's great! Or, if you'd prefer us to lead a secular discussion we have that option available as well. Please just let us know ahead of time so we can prepare our guides accordingly.
Are there camper-scholarships available?
Yes! Please don't hesitate to reach out if camper-scholarships would make it easier for you or your group to come experience these amazing adventure opportunities we offer. 
PLEASE DON'T LET MONEY BE THE REASON WHY YOU WOULDN'T COME! 
Extra! Extra! Read all about it!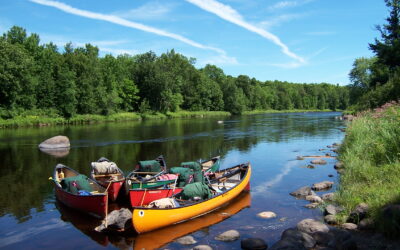 You want to help them grow. You want to help them experience God's presence because it's beautiful...
read more
We'll send you occasional news, updates, events, and opportunities from Amnicon. We'll keep your info safe.