Courses & Events
COME JOIN THE FUN!
Check out the upcoming courses & events we're planning!
For questions & to RSVP…
Jump to a specific event: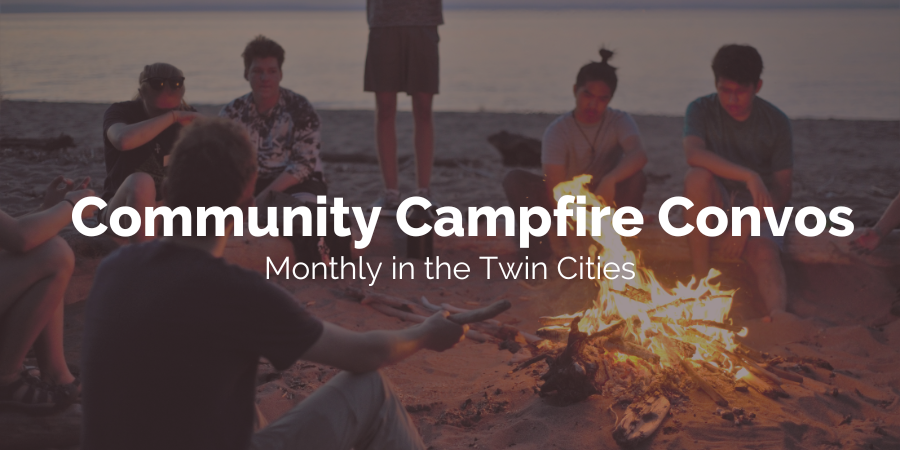 You are invited to join in for a monthly Amnicon Twin Cities: Community Campfire Convo. "Convo." referring to both conversation as well as convocation (a gathering of people). Each month is an opportunity to connect with the broader Amnicon Community around a fire year-round. Come and engage your spirit with genuine friendships some of which were kindled in the north woods and some new, but all sustained around the fires of God's grace and authentic community back home.
Upcoming Convos:
Friday, January 20, 2023 -7:00pm
University Lutheran Church of Hope, Minneapolis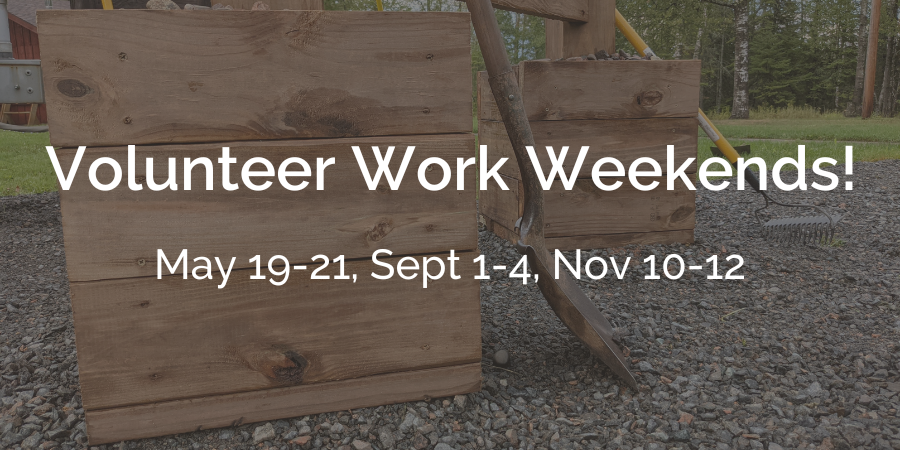 2023 Volunteer Work Weekends:
May 19-21, Sept 1-4, November 10-12
We love our volunteers! So many aspects of this vital ministry would not be possible without the help and dedication of our amazing volunteers.
General Schedule:
Friday: Arrive in the afternoon or evening as you are able. We'll have a few things to do, but mostly people are just getting settled in and catching up.
Saturday: We'll start the day with breakfast @ 8 am. After eating we'll divide into teams to get projects done. It's so satisfying to see a marked change, and a visible difference afterwards! Lunch is at noon, and dinner is at 5:30. After dinner we'll hang out around the fire or hike down to the beach.
Sunday (or Monday): We'll finish up any final projects, and clean up the site before lunch. Most people will head home right after lunch.
What are the projects?
Each weekend has its own unique projects – all skill levels are welcome!
Generally, be prepared to work outdoors
Food & Housing? 
Provided free of charge by camp! Most people will be staying in the bunkrooms in the lodge, although the personal retreat cabins are available for those who need that. If you have a specific housing need, or a dietary restriction, please let us know when you RSVP!
Kids need camp. You can help make it happen. 
Join us at Dodge Nature Centure in Eagan on May 7th, 2023 to celebrate the impact that Amnicon trips have in the lives of our campers, to hear the stories, and to join together to raise camper scholarships so that everyone can come on a trip regardless of what they can pay. 
More details to come. 
Interested in volunteering at Packs & Paddles? Would you like to donate an awesome auction item?
You're invited to come camping with us! We'll spend the weekend touring the Namekagon National Scenic Riverway, admiring the fall colors, and digging deep into life around the campfire. Spend your weekend connecting with cool people, and head home feeling refreshed. 
More details to come. Interested in joining us?
All staff from all years are invited to reconnect at this year's Staff Reunion. We'll gather around a campfire at our new Twin Cities Outpost for laid-back evening food, drinks, smores, and of course…retelling all the funny camp stories and dumb jokes. 
More details to come. For questions and to RSVP…
We are so grateful for all the ways you support Amnicon! The Amnicon community is full of friends, donors, supporters, volunteers, prayer wariors, staff, and leaders who have come together to help young people experience God's presence and grace in transformative and awe-inspiring ways in the wilderness. We want to say THANK YOU . 
Join us in the Twin Cities to hear the stories from this past summer and to celebrate the impact of Amnicon.
More details to come. For questions and to RSVP…
We'll send you occasional updates, events, and opportunities from Amnicon.