A community-building experience like none other, everyone is *literally* all in the same boat together on this adventure…a 35′ Montreal Canoe! Your guides will teach songs and lead games to help everyone paddle in time together. Encounter Cedar Ave, 35E, and 62 like you've never traveled them before, under the bridges instead of over them. You'll paddle through Fort Snelling State Park and meet up with the Mississippi River to see and feel the confluence of the two largest rivers in the area, a sacred place rich with history and full of stories. Throughout the day, we'll make time to clean up trash and leave the river more beautiful than we found it.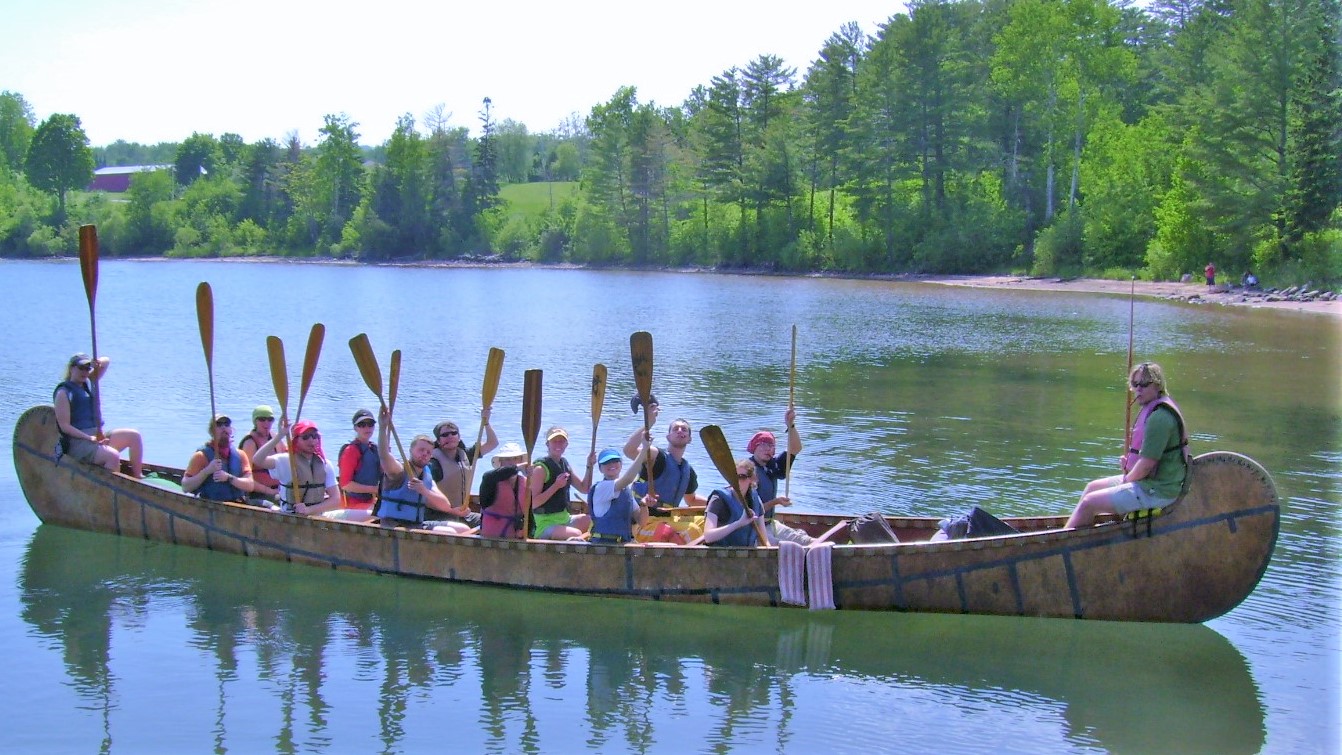 Register with Amnicon
Click the button below. You'll need to create an account, and then enter Group Reg Code:
24GSIGH
to see this trip.
frequently asked questions
What is a schedule for the day?
9 am – 3 pm
Meet us at the MN River Boat Landing at 3711 Nicols Rd at 9 am. We'll have some time to get to know each other, and talk about the day. Then we'll get in the big canoe and start paddling down the river! Along the way we'll sing songs and play games in the boat to help everyon keep paddling in time. We'll stop along the river to pick up trash and litter. We'll take a longer break on Pike's Island to explore, eat lunch, and dig deep into life in a meaningful community conversation. We'll keep paddling down stream after lunch. At the end of the day we'll pick everyone up, and shuttle you back to where you started.
What do I need to bring?
Please bring with you:
A completed health form (one will be emailed to you when you register)
Water Bottle with screw-cap lid
Wear clothes suitable to the weather, and that you won't mind getting wet or dirty. Expect your shoes to get wet!
Optional: camera, sunscreen, bug spray
Who can come on this trip?
Trip participants must be:
At least 11 years old on the first day of the trip,

In reasonably good health,

Able to lift and carry 30 pounds over a short distance,

Able to swim 25 yards and tread water for 30 seconds while wearing a USCG certified Personal Floatation Device (life jacket)

Able to manage their own care, mobility, and breathing independently,

Able to communicate and follow directions given in English

Able to walk half a mile over uneven terrain without assistance
Anyone with a chronic medical condition must:
Be able to manage their own care without assistance,
Bring all their own medications and supplies,
Be willing and able to communicate with Amnicon staff if they're not doing well,
Have experience managing their condition during prolonged periods of increased stress & activity, AND
Have not had any medical emergencies within the last year.
If you have questions about whether this trip will be a good fit for you, don't hesitate to contact us! Call 715-364-2602 or email info@amnicon.org
What is the Bible study like?
We'll start the day with a brief community conversation designed to help us feel safe together, and get to know each other, and invite God into this experience with us. Around lunch time we'll get to sit down for a longer conversation that will hopefully help us feel deeply connected to the people around us, the place where we are, and the Creator who made everything. 
All spiritual elements of this trip are designed to bring people closer to each other and closer to God. Do you have doubts, struggles, questions? Good! This is a safe place to share those and talk about them openly. Have you walked with God for a long time? Good! Please share that experience too, and be ready to learn from the life experiences of the other people on the trip.
What are the guides like?
Our wilderness guides are amazing, and you'll love them. We send two highly trained individuals with each group. They will be at least 19 years old, and have been chosen because they have demonstrated an impressive level of maturity, care of creation, and a desire to connect with and serve our campers. We do our best to hire a diverse staff every year, and often hire staff from overseas! Amnicon does not discriminate in our hiring based on gender identity, sexual orientation, race, country of origin, or religious affiliation. 
Wondering something else?