Voyageur Canoeing
in Voyageur's National Park
Paddling together in rhythm in a historic 34′ Voyageur canoe, you'll explore the same narrow inlets and wide lakes that were traveled by French-Canadian Voyageurs 200 years ago.  Along the wild shorelines you'll pass by old fish camps and pioneer cabins that date back to an earlier age. It's a magnanimous experience like none other! 
Ages: 14+
Group Size: 10-14 people
Cost: $4750/group
CREATE A GROUP
Along the Minnesota-Canada border lays the pristine wilderness of Voyageurs National Park, harboring 218,000 acres of forest, water, and some of the oldest exposed rock formations in the world. You'll embark from Crane Lake and soon be in the protected waterways and rugged terrain that provide habitat for moose, otter, beaver, loon and bald eagle.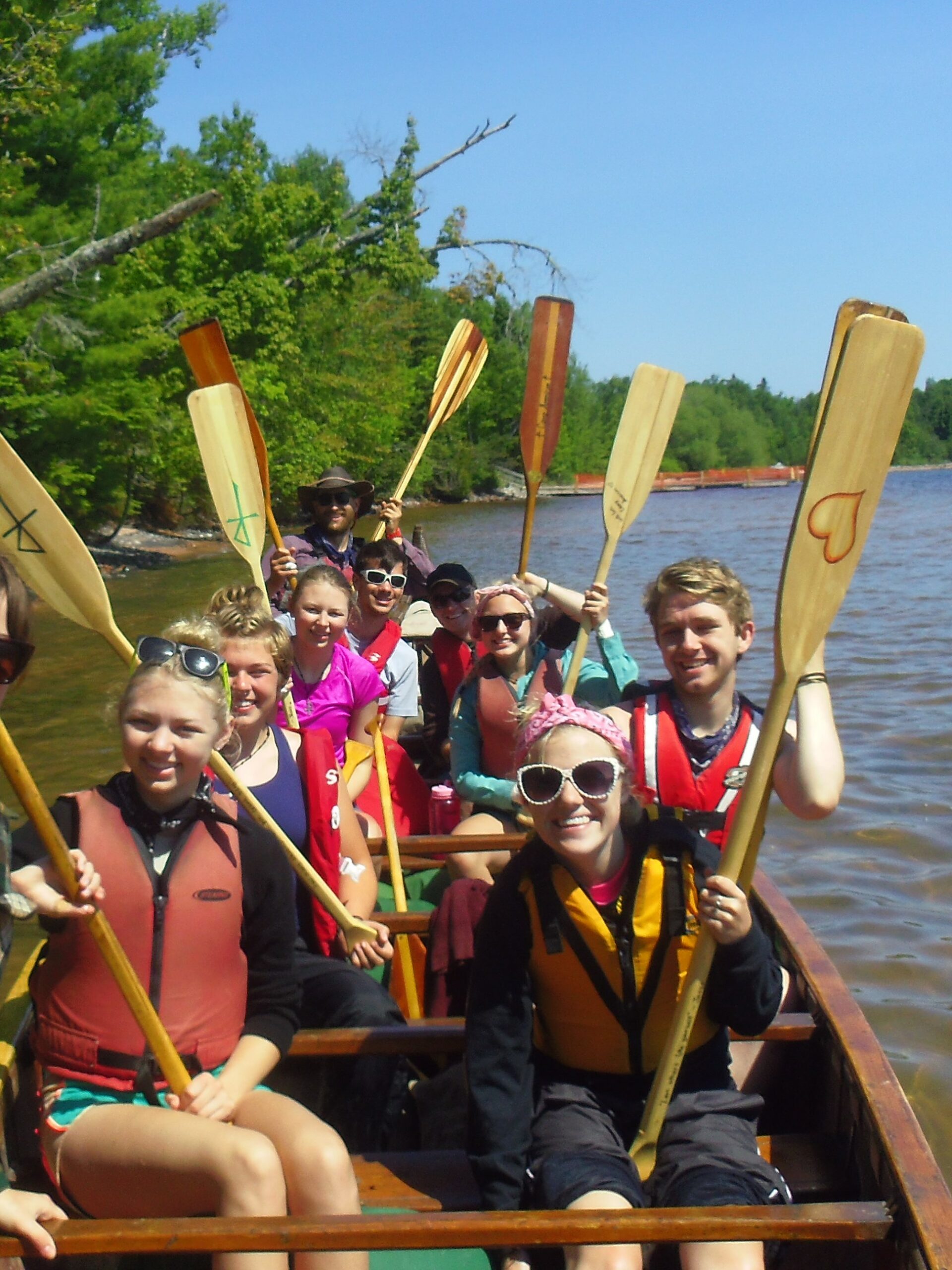 The trip begins at Amnicon with orientation and preparation, so that you will be fully equipped to have a successful experience. The next morning, we'll drive you out to the wilderness and the real adventure begins. For the next 4 nights/5 days, your group will explore these historic waterways in one of our Montreal canoes. Each day you'll paddle together, set up camp, enjoying good food and company along the way. Your guides will teach songs and games in the boat to help everyone paddle in time together. We begin and end each day with First & Last Words – intentional times to come together as a community to enjoy a story, psalm, or song and then discuss it together as a group. Everyone's perspective is welcomed & respected. 
There is time throughout the week to play, relax, swim, and explore. You'll love the scenic views and the peaceful quiet. At the end of the week, we'll drive you back to Amnicon to debrief and shower before heading home. Few other opportunities provide the kind of positive, intense, community-building experience that this awe-inspiring week provides. 
frequently asked questions
Who can come on this trip?
Trip participants must be:
At least 14 years old on the first day of the trip,

In reasonably good health,

Able to lift and carry 50 pounds over a short distance,

Able to swim 25 yards and tread water for 30 seconds while wearing a USCG certified Personal Floatation Device (life jacket)

Able to walk half a mile over uneven terrain without assistance, AND

Have a licensed medical practitioner sign a health form certifying that they are healthy enough to engage in the kinds of activities we'll do on this trip.
Anyone with a chronic medical condition must:
Be able to manage their own care without assistance,
Bring all their own medications and supplies,
Be willing and able to communicate with Amnicon staff if they're not doing well,
Have experience managing their condition during prolonged periods of increased stress & activity, AND
Have not had any medical emergencies within the last year. 
If you have questions about whether this trip will be a good fit for you, don't hesitate to contact us! Call 715-364-2602, email info@amnicon.org, or click the button below.
What are the guides like?
Our wilderness guides are amazing, and you'll love them. We send two highly trained individuals with each group. They will be at least 19 years old, and have been chosen because they have demonstrated an impressive level of maturity, care of creation, and a desire to connect with and serve our campers. They will be certified in Wilderness First Aid, Wilderness Water Safety, CPR, and have extensive training in wilderness skills, navigation, group management, and mental health first aid. We do our best to hire a diverse staff every year, and often hire staff from overseas! Amnicon does not discriminate in our hiring based on gender identity, sexual orientation, race, country of origin, or religious affiliation. 
What are campsites like?
Campsites are maintained by the Nat'l Park Service, and are accessible only by water.  They tend to be pretty plush, as far as backcountry campsites go! Every campsite has a fire ring and at least one picnic table. Some campsites have outhouses, and others have open-air vaulted toilets that we affectionately call "Ranger Boxes".
If the campsite has a Ranger Box, it will be down a path out of view of the campsite, and we'll establish a system for how to know if someone is using it so that no one else can accidentally invade your privacy. It might be a little bit weird the first time you use a toilet without walls around it. But after that you'll notice that it can be nice to have a view, and no walls means it doesn't smell as bad! 
Is it safe?
We have over 55 years of organizational experience about how to do these wilderness adventures in a safe way, and we've never had a trip participant or staff person die or be seriously injured on one of our trips. Your group will be led by two highly trained Wilderness Guides who hold certifications in Wilderness First Aid, Wilderness Water Safety, CPR, & Mental Health First Aid. They go through three weeks of rigorous training before they begin guiding trips, and learn all the camping, wilderness, navigation, and leadership skills. Guides will carry satellite communication devices and will check in daily with the Director team back in base. 
Your guides will teach you everything you need to know to have a safe, fun, and successful wilderness adventure. You are in good hands. 
Is there time for swimming?
We love swimming, and try to make time to swim every day. Your guides will let you know when & where it is safe to swim. 
Wondering Something else?