Voyageur Canoeing
among Lake Superior's breathtaking Apostle Islands
Traveling among the Apostle Islands in any shape or form is truly a unique experience. Combine that with travel in a 35-foot Montreal canoe and camping each night among the stars in the pristine beauty of the Islands makes a trip you'll never forget.
Ages: 14+
Group Size: 10-14 people
Trip Length: 6 days / 5 nights
Cost: $4750/group
CREATE A GROUP
JOIN A GROUP
The Apostle Islands National Lakeshore is a group of 22 islands on Lake Superior, the world's largest freshwater lake. It is heralded for its awe-inspiring beauty, rich history, and amazing opportunities for exploration and adventure.
And we can take you there like no one else…                              in a 34′ Montreal Canoe.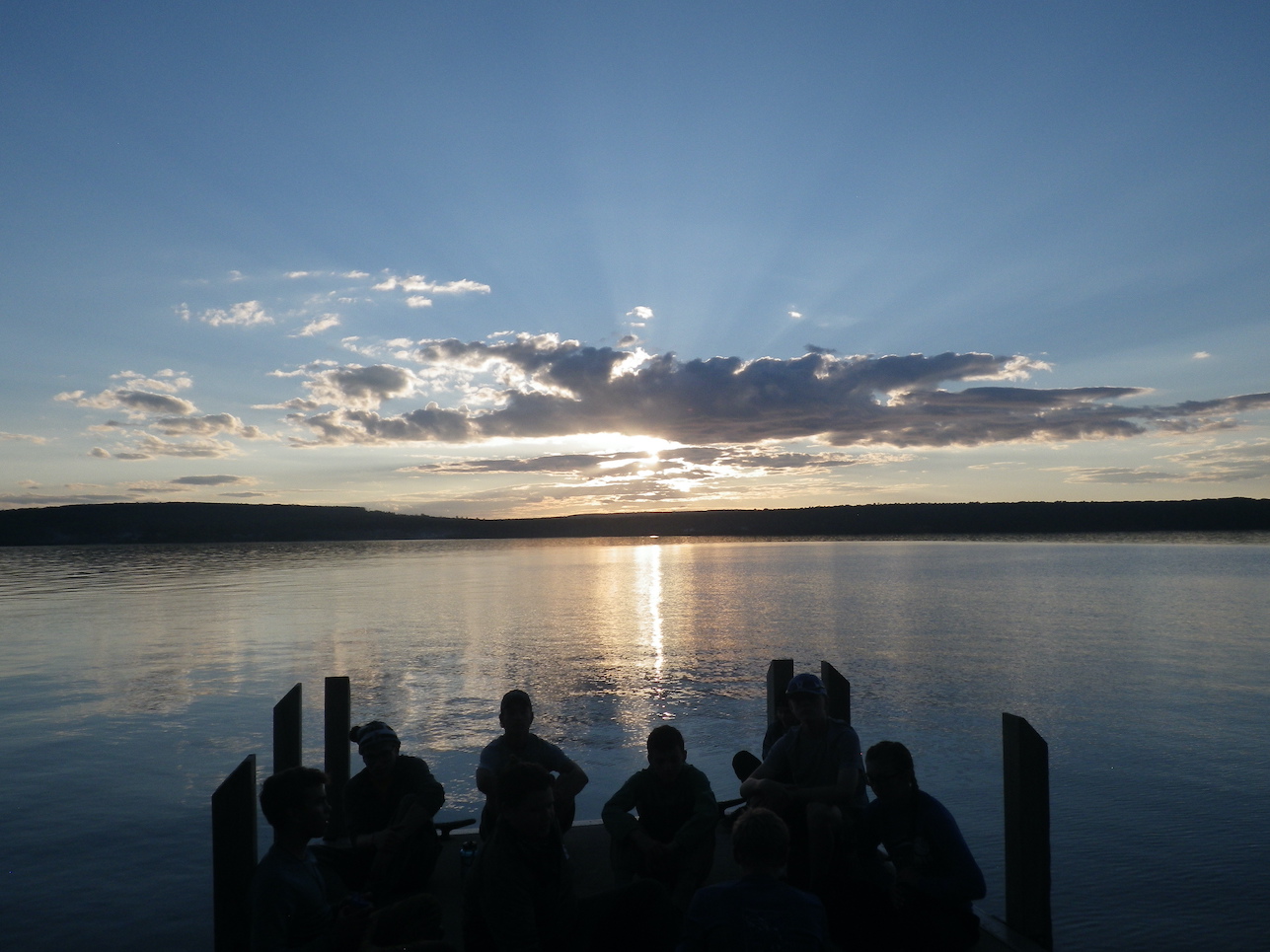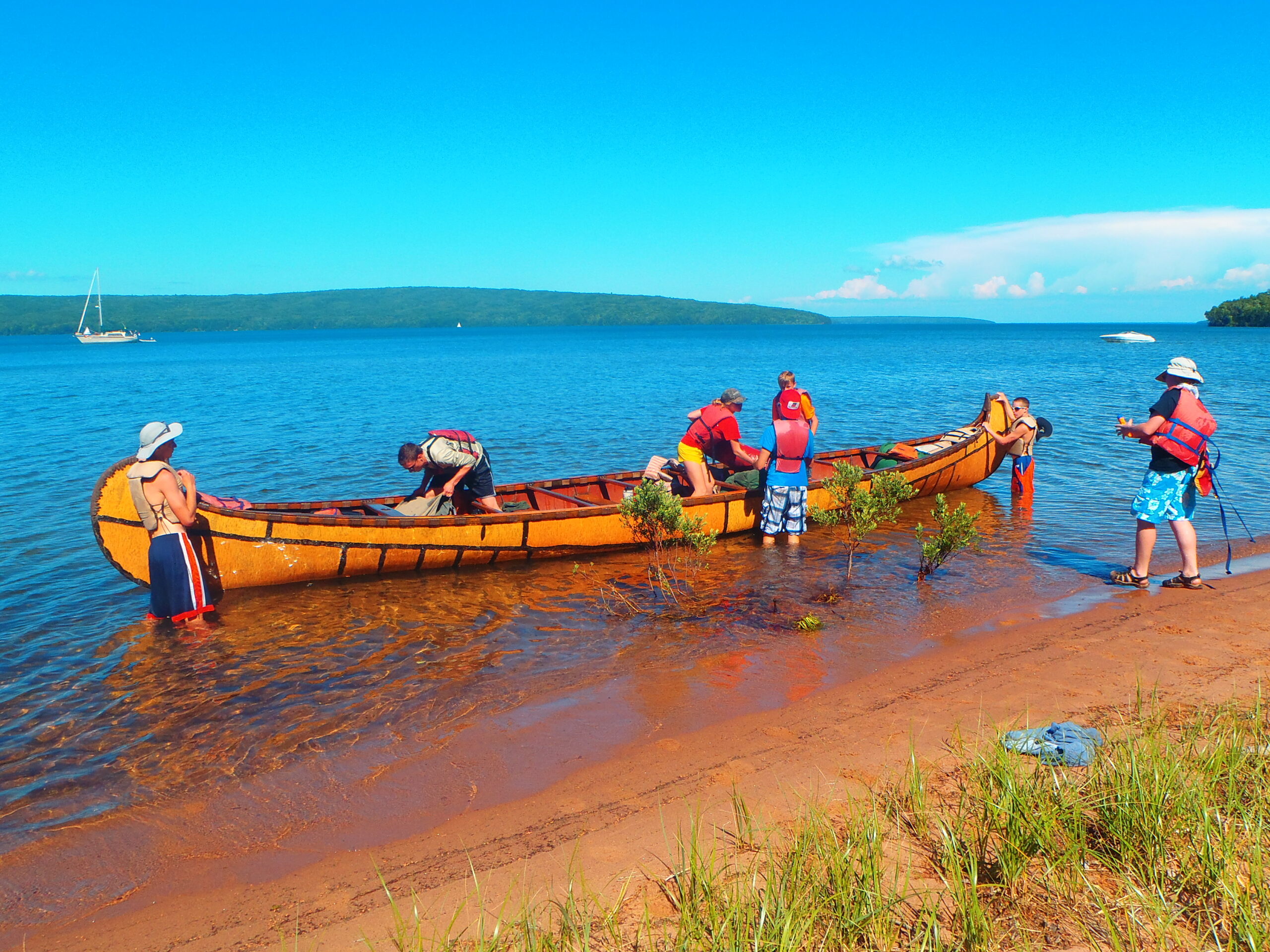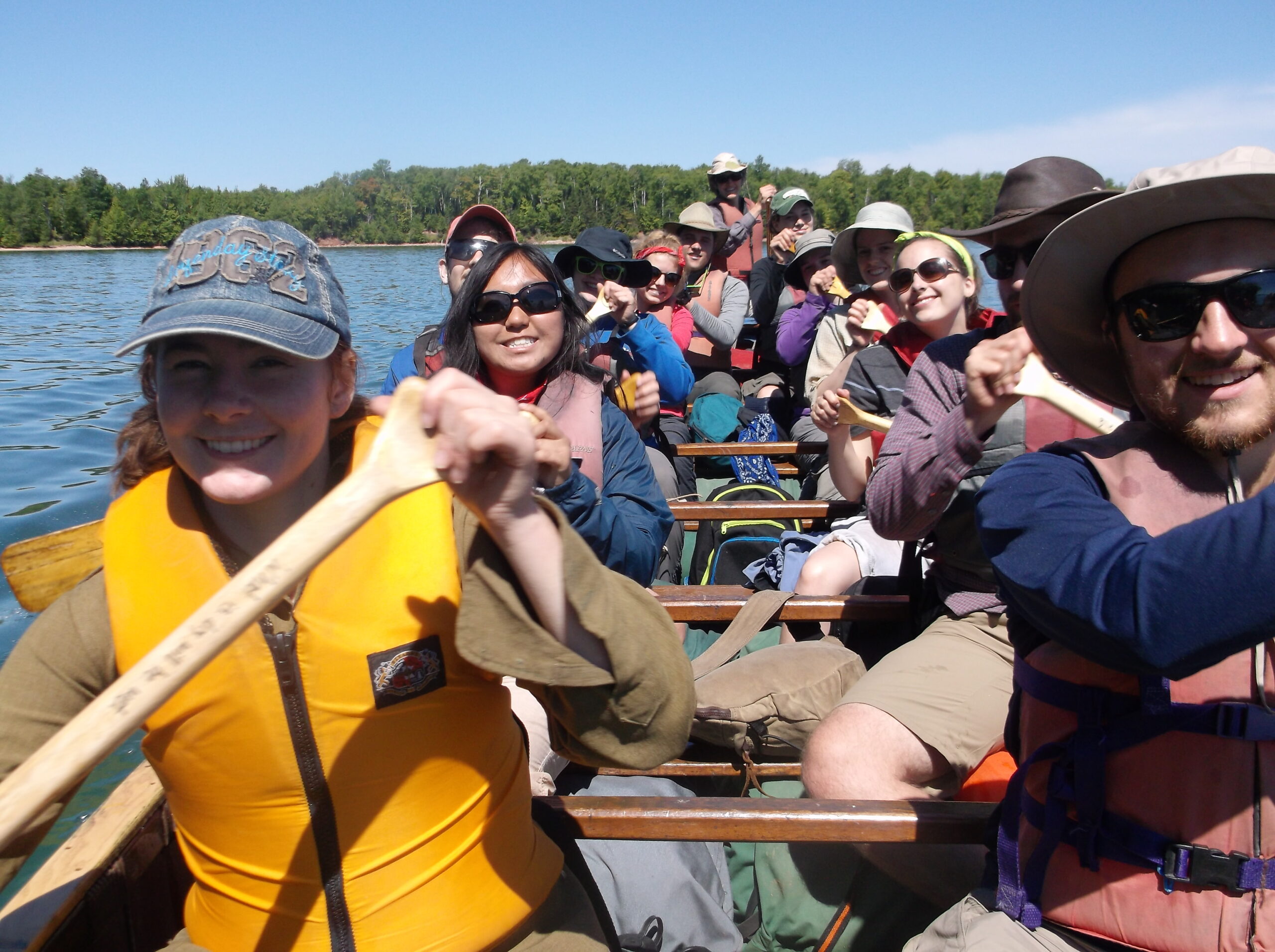 This trip typically goes 6 days (5 nights). On the first day of the trip, you'll arrive at Amnicon's Base Camp (just 30 minutes outside Duluth) in the afternoon. You'll meet your guides for the week and spend the afternoon preparing for your trip and learning everything you need to know before hitting the trail. We'll close out the evening with a big campfire on our sandy beach on Lake Superior.
Early the next morning you'll pack your bags, load up the trailer, and head to the Apostle Islands! Each day you'll paddle from island to island, singing songs and playing games in the boat to keep everyone paddling in time together. Each day typcially begins with First Word, a brief group activity or discussion designed to give group members a chance to connect and learn together. Each day ends with Last Word, similar to First Word, but usually a little more in-depth, taking advantage of the evening atmosphere and a chance to relish in the beauty and adventures of the day together. During the day there's time to swim, play, and explore. We try to give each group a "layover day" where you sleep 2 nights on the same island, which gives you extra time for things like visiting sea caves, lighthouses, and beaches.
You'll dig deep into life together, and be awed by the beauty of creation. You'll learn that you're capable of more than you knew, and that experiences are sweeter when shared.
On the last day of the trip, it's a short paddle to the mainland where we'll pick you up and drive you back to base camp. After a few clean-up chores and a farewell blessing, you'll be ready to head home in the late afternoon with memories and friends that will last a lifetime.
frequently asked questions
What COVID precautions are you taking?
Amnicon Adventures are remarkably amenable to COVID precautions. You won't interact with anyone outside your group, and all group activities will take place outdoors. The American Camps Association (our accrediting org) did a big survey in 2020 and found that camps who followed all of the above precautions had ZERO instances of COVID transmission. COVID can't stop us from having fun, making memories, and connecting with each other.
Amnicon has been successfully running wilderness adventures throughout the pandemic with no known instances of COVID transmission on our site. We encourage all of our staff and campers to get vaccinated against COVID, and to follow all CDC guidelines if they become exposed to COVID. 
Who can come on this trip?
Trip participants must be:
At least 14 years old on the first day of the trip,

In reasonably good health,

Able to lift and carry 50 pounds over a short distance,

Able to swim 25 yards and tread water for 30 seconds while wearing a USCG certified Personal Floatation Device (life jacket)

Able to walk half a mile over uneven terrain without assistance, AND

Have a licensed medical practitioner sign a health form certifying that they are healthy enough to engage in the kinds of activities we'll do on this trip.
Anyone with a chronic medical condition must:
Be able to manage their own care without assistance,
Bring all their own medications and supplies,
Be willing and able to communicate with Amnicon staff if they're not doing well,
Have experience managing their condition during prolonged periods of increased stress & activity, AND
Have not had any medical emergencies within the last year. 
If you have questions about whether this trip will be a good fit for you, don't hesitate to contact us! Call 715-364-2602, email info@amnicon.org, or click the button below.
What are the guides like?
Our wilderness guides are amazing, and you'll love them. We send two highly trained individuals with each group. They will be at least 19 years old, and have been chosen because they have demonstrated an impressive level of maturity, enthusiasm, and a desire to connect with and serve our campers. We do our best to hire a diverse staff every year, and often hire staff from overseas! Amnicon does not discriminate in our hiring based on gender identity, sexual orientation, race, country of origin, or religious affiliation.
Is it safe to travel in a canoe on Lake Superior?
Safety is our primary concern. If we can't keep you safe in the wilderness, then we won't keep you in the wilderness. Amnicon fully appreciates the risks of this kind of travel and we respect that "The Lake is the Boss."
We have over 50 years of organizational knowledge about how to do this well. Our wilderness guides are trained in how to navigate on open water, and how to respond to various weather situations. They undergo a 3-week-long training period which includes topics like mental health first aid and group management. They are also certified in Wilderness First Aid, CPR, and Wilderness Water Safety.
The Montreal Canoes are very stable, and have never been unintentionally swamped. It's actually pretty hard to intentionally swamp them, too.
We WILL NOT TRAVEL if there is a "small-craft advisory", which is a weather warning determination made by the NOAA. These advisories are possible any time, so there is a small chance that a group might get wind-bound on an island and might not be able to get back to the mainland on their scheduled return date. We send extra food in case this happens, and recommend that trip participants not schedule any major plans (like flights or weddings) for the day after their trip.
Which islands do we camp on during the trip?
Typically we camp on Basswood, Oak, Stockton, and Sand Islands. We are able to visit several others, including Hermit, Raspberry, and York Islands. Routes differ widely from trip to trip as our camping reservations are determined via lottery with the National Park Service, and weather considerations often prevent us from simply going wherever we wish. The Lake is the boss. Our guides love exploring new islands, but they will never choose a dangerous route just for a change of scenery.
What are the campsites & bathrooms like?
We stay at group campsites that are maintained by the National Park Service. They tend to be large and comfortable, with beautiful views of Lake Superior and the surrounding islands, access to hiking trails, and a good swimming area. You'll find an outhouse at every campsite & boat landing.